Finding Invisible Fingerprints
How to find 'invisible' prints
Dr. John Bond, a British inventor has developed a unique and revolutionary new technique for uncovering hidden fingerprints. Dr. Bond's procedure could be the key to many unsolved murders and other crimes. In fact, one police detective, Garrie Dorman, from Bristol, Connecticut, traveled 3,500 miles to meet with the doctor, hoping to solve the 1998 murder case of Louis "Pete" LaFontaine.
Detective Dorman delivered an evidence bag containing bullet casings to Dr. Bond, who then conducted his new procedure on the brass. Suddenly, two fingerprints that had not shown up in earlier testing, appeared on the casings.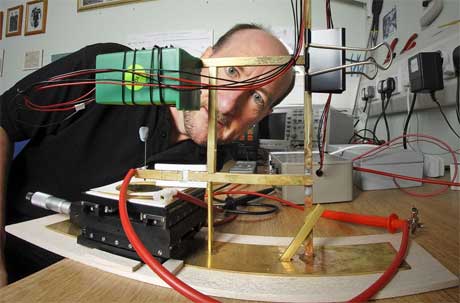 John Bond
Dr Bond's technique can reveal "hidden" fingerprints on metal – especially shell casings – by detecting the minute traces of corrosion on the surface caused by salt in the sweat on human fingers.
This type corrosion never goes away, and the shooter can't wipe it off. Even the intense heat that's generated when the weapon is fired can't destroy the embedded corrosion-induced fingerprint.
Dr. Bond's fingerprinting technique has been described by Time magazine as one of the top 50 inventions of 2008.
Dr Bond said, "Normal fingerprinting requires a residue of sweat to be left on the metal, but my technique doesn't need that, and it can work when conventional techniques fail.
Bond's process is unbelievably simple. The shell casing is held against an electrical terminal that charges it with 2,500 Volts. Then, electrically charged ceramic beads that have been coated with a very fine, black powered are poured on the corroded portion of the casing.
"The black powder just reveals where the corrosion pattern is, then we heat the sample to bake the powder in place and photograph it for standard fingerprint comparison," Dr Bond added. "We often get prints from the forefinger or thumb, where the person loading the weapon has pushed bullets into the magazine."
Oddly, Dr Bond's breakthrough invention is made only from a cardboard box, a popsicle stick, and a few pieces of wire, tape, and metal. Nevertheless, the device works and just may solve many cold cases.
Thanks to Norm Benson for today's topic idea.
* Friday's Heroes will resume next week. Unfortunately, the good luck we experienced last week did not continue.
https://leelofland.com/wp-content/uploads/2012/07/WetLiftComparatorIMG_0392.jpg
448
298
Lee Lofland
https://leelofland.com/wp-content/uploads/2017/04/the-graveyard-shift-1.png
Lee Lofland
2009-01-23 08:30:06
2017-05-30 09:24:33
Finding Invisible Fingerprints