Nichole Brown Simpson crime scene.
Sometimes, the amount of blood in a murder scene can be quite overwhelming, but the savvy detective can read the reddish-brown liquid like a book. The stuff can even point to where the killer stood when he delivered the fatal blow.
A blood droplet's direction of travel is easy to determine because of its shape. A drop of blood forms an ellipse when it hits a flat surface.  The long axis of the orb is an indication of the travel direction. Also, the ellipse usually has a tail which gives it the appearance of an elongated teardrop. The droplet's appendage always points away from the victim when it hits a surface from an angle. This is not the case when droplets fall straight to the floor or ground. However, it's almost always safe to assume the body was directly overhead when the droplet(s) fell.
Blood droplet was traveling from bottom left to upper right. The victim would have been standing somewhere to the lower left of the droplet. Droplets like this are normally caused by a trauma – a gunshot or a blow by an object, such as a baseball bat. This type bloodstain is called a Projected Bloodstain.
Investigators can determine the angle from which the blood droplet struck the flat surface by using the following formula:
Calculating the unknown angle
= length of ellipse (major axis)
= width of ellipse (minor axis)
= angle of impact
The relationship between these variables is:
Blood droplets spatter after falling straight to the ground. This is often seen in self-inflicted, stabbings, and accidental wounds. The further the fall, the wider the spatter. These are called Passive Bloodstains.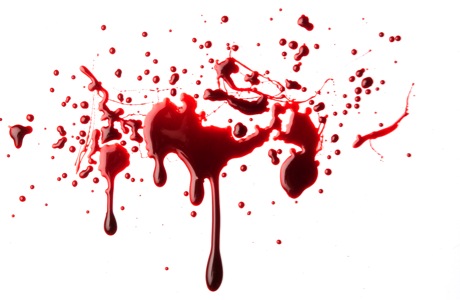 Blood spatter pictured above is the result of a direct hit on the wall -no angle. Also a Projected Bloodstain.
"Send that knife to the lab for DNA testing, Joe."
Quiz: What fatal mistake have these two detectives made?
https://leelofland.com/wp-content/uploads/2012/07/BloodstainPatterns1IMG_0260.jpg
298
448
Lee Lofland
https://leelofland.com/wp-content/uploads/2017/04/the-graveyard-shift-1.png
Lee Lofland
2008-03-12 06:29:25
2017-05-28 11:32:37
Blood Evidence