Police Rumors, Scandals, and Scoops
– Outside looking in: A distraught man barricaded himself inside a New York sheriff's office. The building was evacuated after the suspect fired a shot.
– Bite me!: A Connecticut police instructor was arrested on reckless endangerment charges for biting a co-worker. The female employee and the instructor were engaged in horseplay when she said, "Bite me." So he did.
– A rural N.C. police department spent $20,000 for two police dogs, and another $10,000 for training, a sum that drained their budget. Officials had originally hoped to purchase bullet and stab proof vests for the animals, but couldn't scrape up the additional $1,600. However, local citizens have begun a fund raising campaign to purchase the vests.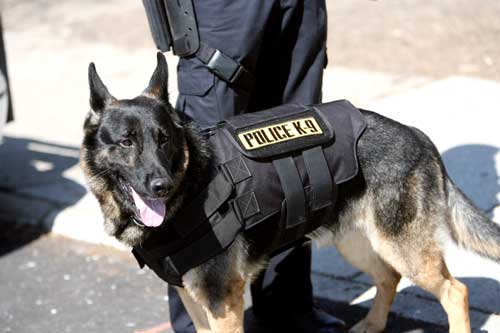 – NYPD forensic investigator, Michelle Lee, was stabbed to death in her home. An ex-boyfriend was arrested for Lee's murder. Forensic evidence left at the scene – evidence normally collected by Lee – was used to learn the identity of the killer.
– A Miami teen escaped from police custody by running away from the arresting officer. The police officer managed to get one cuff on the lad's wrists before the kid made his break. The boy was charged with stealing the handcuffs.
– A jail inmate in St. Mary's, Florida escaped from jail, stole several packs of cigarettes from a nearby convenience store, and then attempted to break back into jail. He was nabbed during the re-entry, and was later charged with escape and burglary.
– A man in Wingerworth, England was sentenced to 20 weeks in prison for repeatedly whistling the Addams Family theme at his neighbors. Prosecutors say the behavior was absolutely intolerable.
*     *     *
Attention! Authors, Publicists, Agents, Publishers, Editors, and Conference Directors. Want to advertise books or an event on The Graveyard Shift?
Contact us and we'll tell you how!
https://leelofland.com/wp-content/uploads/2010/09/new-picture4.jpg
448
321
Lee Lofland
https://leelofland.com/wp-content/uploads/2017/04/the-graveyard-shift-1.png
Lee Lofland
2009-05-29 07:02:44
2017-05-30 11:28:33
Police Rumors, Scandals, and Scoops