Hickory, Dickory, Dock, The Crook Pulled Out A Glock.
Every job has its difficulties, and police work is no different. In fact, I don't believe there's another career in the world that offers more opportunity to screw up than a career in law enforcement. Think about it. What other company provides its employees with high-powered weapons and live ammunition, a car equipped with disco-type strobe lights that you can drive like a rental, and permission to squirt hot pepper juice in someone's eyes? The major problem with all these quirky, but attractive perks is that they come with a slight disadvantage, the possibility of taking a human life, or losing your own.
To complicate the loss of life factor is the split-second decision making that cops are faced with as a part of their everyday routine. A plumber's plans are laid out for him – hot on the left, cold on the right, and crap doesn't flow uphill. Mechanics rely on a little sing-songy phrase about which direction to turn a wrench – Lefty Loosey and Tighty Righty (Turn the wrench to the left to remove the bolt, or turn it to the right to tighten it).
But cops operate in a world of gray. There are no handy-dandy nursery rhymes to guide officers through their tours of duty. But wouldn't it be great if there were such a thing – a happy verse or two  to help relieve some of the pressure.
Hickory, dickory, dock,
The crook pulled out a Glock.
The cop shot once,
The thug fell down.
Hickory, dickory, dock.
Or…
This old man, he was dumb,
He sold crack vials to a bum,
In a
Locked up, paddy wagon,
Throw away the key;
This dumb guy ain't coming home.
I know, but it was really late when I wrote this blog…
Anyway, here's what kind of November it's been so far:
Arkansas Cop Suspended After Using His Taser On Ten-Year-Old Girl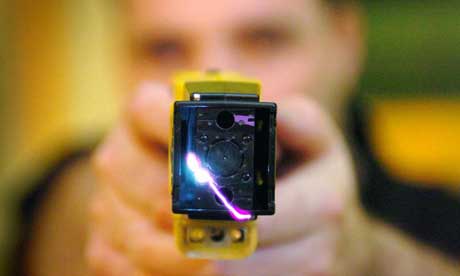 Officer Dustin Bradshaw responded to a call from a distraught mother of an 11-year-old girl. The woman called police because she couldn't get the girl to take a shower. The girl began kicking and screaming so her mother gave Officer Bradshaw permission to deploy his Taser on the child. Bradshaw was suspended from duty after completing the call, but the suspension was not for using his Taser. Instead, supervisors suspended him because he hadn't activated the attached video camera before shocking the little girl.
Cat Tries Texas Officer's Patience
Thanks to Linda McCabe and Rhonda Lane for sending this one to us.
Phoenix Officer Rescues Kitten From Sewer With Baton
A Phoenix police officer climbed 8 feet into smelly, dark sewer that was crawling with spiders to gently lift a trapped kitten from the pit.
Body of 5-Year-Old Fayetteille, N.C. Girl Found
Shaniya Davis was finally discovered by rescuers. Her killer had placed her tiny body among a bag of discarded, rotting deer carcasses. Mario McNeil has been charged with the child's death. In an odd twist to the case, the girl's mother, Antoinette Davis, is charged with trafficking her daughter and child abuse involving prostitution.
*     *     *
Writers Police Academy
Registration is officially open!
Please visit us at www.writerspoliceacademy.com to reserve your spot at this unique event now.
Space is limited!
I'm very pleased with the early response to the academy. We've been steadily receiving reservations from all across the country and Canada.
Remember, the hotel also has limited space due to other large events in the area. Please register early and be sure to tell them you're registering for the Writers' Police Academy to receive our special rate. If you've already registered and didn't ask for the rate please call the hotel. They'll make the adjustment. Our block of rooms is filling quickly.

https://leelofland.com/wp-content/uploads/2016/11/Glock_19_Generation_4_9mm_Pistol-e1479230117170.jpg
1600
1200
Lee Lofland
https://leelofland.com/wp-content/uploads/2017/04/the-graveyard-shift-1.png
Lee Lofland
2009-11-20 05:40:26
2017-05-30 13:44:30
Hickory, Dickory, Dock, The Crook Pulled Out A Glock.