When Is A Punch To The Face Justified?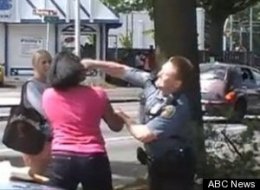 Officers have many go-to tools at their disposal for use when arresting unruly suspects, such as pepperspray, batons, firearms, and hand-to-hand techniques. And they're trained to use those weapons when faced with situations that threaten their safety and the safety of others. Officers are also trained to do what it takes to make a lawful arrest.
This incident in Seattle has raised the eyebrows of many across the nation. An officer was stationed at a particular section of roadway because a local school requested police presence to reduce student jaywalking. As a result, an officer attempted to arrest a 19-year-old woman for a jaywalking offense. She resisted the arrest, and during the struggle a 17-year-old female walked up, began arguing, and then pushed the officer. His response to the girl's physical contact/assault was a closed-fist punch to the girl's face.
Both females were arrested.
The question is whether the officer used an appropriate level of force to gain control of the situation. Well, I'll agree that the video is disturbing, but until you're in a situation like this officer was in you'll never understand his response. He was faced with arresting two unruly suspects, one of which had assaulted him. It was obvious that they were not complying with his commands and were trying to flee. He had no idea what their next move would be. He also had to worry with the growing crowd that had begun to close in on him.
The officer was making a legal arrest. So when the first woman began resisting he had the right to use whatever force necessary to effect the arrest, which he was doing. He was using appropriate arrest techniques—joint control and pain compliance. However, when the second female entered the scene and put her hands on the officer, attempting to free her friend, the level of danger escalated, which also called for a higher level of use used by the officer. At this point he would have been justified in using a baton or Taser. In fact, the situation was very close to becoming one where lethal force would have justified. All it takes to cross that line is for the officer to feel that his life was in danger.
Personally, and as a former instructor/instructor trainer of defensive tactics and officer survival, I believe the officer was justified to deliver the strike (based on the video). And I think the suspect is lucky she's not dealing with the after-effects of baton strikes and searing hot pepperspray. I also think the officer is lucky. The crowd seemed to be a second away from attacking him.
What do you think? Was the officer's action justified? Should police officers be allowed to punch someone while trying to gain control of the situation? Is it okay to strike combative men, but not women (which has been part of the reaction)?
I do have a question, though. Why wasn't the first woman, the jaywalker, issued a summons instead of being arrested? That would have prevented the entire situation. However, we've only seen the physical part of this scenario. The officer may have attempted to issue a citation and she refused to sign.
On another note, the video may be an illegal video since it includes audio. But that's an issue for another day.
https://leelofland.com/wp-content/uploads/2017/04/the-graveyard-shift-1.png
0
0
Lee Lofland
https://leelofland.com/wp-content/uploads/2017/04/the-graveyard-shift-1.png
Lee Lofland
2010-06-17 07:05:35
2017-05-30 10:58:20
When Is A Punch To The Face Justified?