Police Rumors, Scandals, and Scoops
– Trooper Robert Higbee was found not guilty this week for vehicular homicide.
Trooper Higbee
The case stemmed from an accident involving Higbee and a two sisters. Higbee was involved in a high-speed pursuit when he ran a stop sign, smashing into the minivan, killing both women.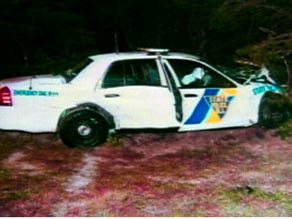 Trooper Higbee's patrol car
– James Von Brunn, a white supremacist, fired shots inside a U.S. Holocaust Museum yesterday. He shot and killed a security guard before two other guards returned fire, wounding the suspect. A group of Massachussetts school children were touring the museum at the time.
– Sheriff Charlie Morris of Shalimar, Florida has been accused of using money he received from homeland security grants to pay bonuses to his employees. He also received kickbacks and new cars. At the time of his arrest Morris had received over $100,000 from the fund. The amount he'd doled out to his employees is believed to be much higher. The case came to light when detectives learned that the high sheriff was paying a woman, his mistress, a salary of $80,000. The mistress rarely came to the office and wasn't listed on any formal payroll records. I'm guessing she worked in an "undercover" capacity.
Sheriff Charlie Morris
– A Houston traffic stop for speeding turned into a seizure of $2 million in cash and 68 arrests. The driver of the speeding car snitched on traffickers for Mexican drug cartels. I imagine the former speeder is now residing somewhere far, far away. He probably wears a rubber nose and black-rimmed glasses when he goes to the grocery store.
– Stephanie Lazarus, a veteran LAPD detective has been arrested for the 1986 murder of the wife of her former boyfriend. DNA was used to link Lazarus to the crime.
Stephanie Lazarus
Sergeant Major Manuel Curry of the New Orleans Police, the longest serving officer in the U.S., died last week. He began his career in 1946, serving for more than 63 years.
https://leelofland.com/wp-content/uploads/2010/09/new-picture4.jpg
448
321
Lee Lofland
https://leelofland.com/wp-content/uploads/2017/04/the-graveyard-shift-1.png
Lee Lofland
2009-06-11 08:52:47
2017-05-30 11:08:12
Police Rumors, Scandals, and Scoops