Michelle Gagnon: Stranger Than Fiction
Michelle Gagnon is a former modern dancer, bartender, dog walker, model, personal trainer, and Russian supper club performer. Her debut thriller The Tunnels was an IMBA bestseller. Her next book, Boneyard, depicts a cat and mouse game between dueling serial killers. In her spare time she wrestles wildlife and sneaks into restaurant bathrooms.
Stranger than Fiction
I have a weakness for the bizarre. Over the years, I've filled a file with truth-is-stranger-than-fiction news clippings. Some of these items I work into my novels, the rest I save for my own personal edification. Many of these are brief dispatches from the AP wire, or one of the smaller local papers that tend to be a treasure-trove of the weird and curious. Here are a few recent favorites, along with commentary…
Church attendance down? Try combining religion with X-Games events:
July 21, 2008, Kokomo, Ind. (AP): Jeff Harlow, the senior pastor at Crossroads Community Church, broke his wrist when he lost control of the motorcycle at the start of Sunday's second service, driving off a 5-foot platform and into the vacant first row of seats. He underwent surgery on the wrist Monday. Wife Becky Harlow said her husband had recently attended a motorcycle race in Buchanan, Mich.
"He had this idea that he would bring this bike out onstage and show people how the rider would become one with the bike."
When you snooze, you really do lose…
July 21, 2008, Monroe, Wash. (AP): Police spokeswoman Debbie Willis says a break-in was discovered July 9 at a Fred Meyer department store northeast of Seattle.
Police followed a trail of cardboard and items from storage containers in a locked area behind the store that led to the two men. One was sleeping in a stolen hammock and the other on a pile of stolen pillows.
Police photographed the men before waking and arresting them. Willis says alcohol was involved.
And we thought the CSI Effect only applied to courtrooms…
July 16, 2008 Albuquerque, N.M. (AP): It looked like something out of "CSI: Crime Scene Investigation." And sure enough, it was. State police said Wednesday that they solved a mysterious eastern New Mexico shooting death that was similar to a shooting depicted in a 2003 "CSI" episode. In both cases a revolver was found tied to balloons in an apparent effort to make the weapon float away.
"We're not saying it's a copycat of the TV show," state police Lt. Rick Anglada said. "We have no way to know he actually saw the episode. However, the lead agent kept hearing from people that there was a similar case from 'CSI.'"
Hickman was last seen two days before his body was found. Investigators believe he filled the balloons with helium, tied the balloon bouquet to the weapon, then duct-taped his own mouth and shot himself in the back of the head.
Just imagine if Little Red Riding Hood's Grandma had known jujitsu, there might have been a totally different outcome…
July 14, 2008: Stroudsburg, Pa. (AP): A 77-year-old grandmother was recovering at home after she pinned down a rabid fox that bit her and held it until help arrived. Avis Blakeslee was attacked as she tended to her petunias outside her Stroudsburg farmhouse. She said she pushed the animal to the ground after it bit her, and held its jaws shut with one arm as she flagged down a passing driver with the other.
I have a real soft spot for the Carmel Pine Cone, they run a weekly police log detailing everything that's happened in the area in the past week, from lost wallets to barking dogs. Here's a recent incident. I can just imagine calling 911 for this repeat offender…
July 11, 2008: Carmel Pine Cone: Carmel-by-the-Sea: Male reported that on June 23 at 2100 hours, he entered a Dolores Street restaurant with the intention of having Italian food. He changed his mind, and used the restroom before leaving. While he was leaving, the manager took him by the arm and accused him of never eating and only using the restroom. He was escorted outside and told to leave. Reporting party felt that he was mistreated. The officer spoke with the manager, who said that the RP came into the restaurant, went to the restroom and began to leave. Manager and RP argued for a bit, and the manager escorted him outside. Manager said that the restaurant has two restrooms for patrons only and that there is a public restroom in the adjacent Picadilly Park. Manager said that this wasn't the first time this RP has done this.
And finally, my home town rag. This falls under the category, "only in San Francisco." Wonder how Jerry Garcia would feel about this…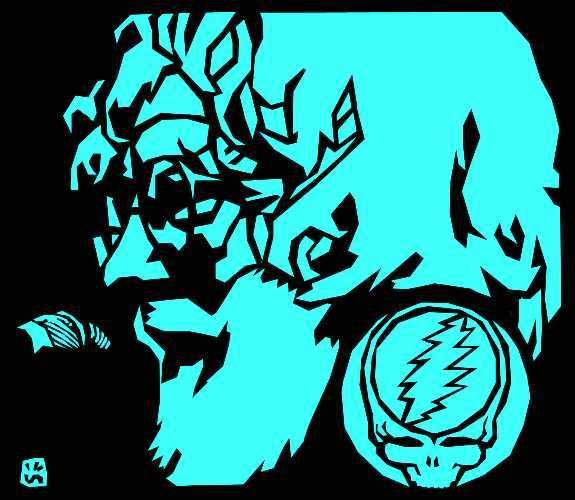 July 18, 2008, San Francisco Chronicle: Stannous Flouride was in a Haight Street store when a uniformed San Francisco police officer came in and asked for the smallest Grateful Dead sticker in stock. The shopper was looking for something tiny enough to affix to a gun.
So do you have any wacky true crime stories to share? Best one receives a signed edition of my first thriller THE TUNNELS. If you don't win, console yourself by signing up for my newsletter at www.michellegagnon.com and I'll toss your name in the hat for an Amazon Kindle, iPod Shuffle, Starbucks gift certificates, and other fabulous prizes.
https://leelofland.com/wp-content/uploads/2008/07/michelle_web-1.jpg
435
282
Lee Lofland
https://leelofland.com/wp-content/uploads/2017/04/the-graveyard-shift-1.png
Lee Lofland
2008-07-23 22:32:53
2017-05-29 09:02:28
Michelle Gagnon: Stranger Than Fiction