Dr. Katherine Ramsland: Risk Assessment For College
Dr. Katherine Ramsland has published 37 books, 16 short stories, and over 900 articles. She is professor of forensic psychology and criminal justice at DeSales University, and her latest books are Inside the Minds of Sexual Predators and The Forensic Psychology of Criminal Minds.
Risk Assessment for College
On February 12, 2010, a Harvard-trained biology professor reacted badly during a late-afternoon faculty meeting. Months earlier, she'd been denied tenure and was facing some tough decisions about her future. It's rare to see an incident of workplace violence on a college campus, and even less likely that a woman's the shooter, but that's what happened when Amy Bishop, 42, allegedly picked up a 9-mm handgun. She killed three of her colleagues and wounded three others at the University of Alabama at Huntsville. (At this writing, two remain in critical condition).
The attack occurred in the science building, and Bishop was taken into custody outside. Reportedly, she denied that the incident had happened, but it was not the first time she had shot someone. Years ago, in an incident tagged accidental she had fatally shot her brother three times. The gun she used was not on her but hours later it was located inside. Bishop did not have a permit. Students who know the assistant professor were stunned, and one said that she'd been calm that morning during class. However, she seemed to be targeting the tenure process decisions-makers. Among the dead were the department chair and two professors who'd reach the coveted security she was seeking. The campus immediately closed down as authorities sorted through what had happened that day.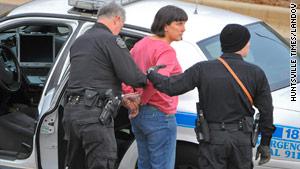 Police take Amy Bishop into custody after the shooting. (CNN photo)
For a long time, Americans bought the image of a college campus as a safe haven, but a murder at Lehigh University in 1986 forced statistics out in the open. There was more crime, violent and otherwise, than most people realized. R. Barri Flowers documents it in his 2009 book, College Crime: A Statistical Study of Offenses on American Campuses, with an emphasis on crime involving or targeting students. Among the cases is one that launched a new openness about the realities of college campuses.
Jeanne Ann Clery, 19, was asleep in her room when another student, Joseph Henry, broke in around 6:00 A.M. He raped and sodomized her, strangled her with a slinky toy, and cut her throat. Apparently, he'd exploited the common practice by female residents of propping open the dorm's entrance doors to sneak in their boyfriends at night. In this case, it had been propped with pizza boxes. The school's patrols were aware of this practice but often overlooked it. Not only that, Clery's killer had a criminal record. According to the New York Times, school officials had known that Henry had problems with drug abuse. He was arrested for the murder after he bragged about it to friends and one of them turned him in. Henry was tried for Clery's murder and convicted.
Jeanne's heartbroken parents, Connie and Howard Clery, did some research and learned about three dozen incidents of violent crime on the Lehigh U campus over the prior three years, half committed by Lehigh students. In addition, security was lacking: the door to Jeanne's dorm had been discovered propped open 181 times in the four month prior to her death. No school official had informed them of this; instead, they'd been told that the campus was safe. There wasn't even a policy, they learned, for punishing students caught propping doors. The Clerys sued the school, arguing that security measures at their daughter's dorm had been inadequate. For the safety of future students, they wanted Lehigh to put electronically monitored locks on dormitory entrances, increase security guards, and limit access to the dorms at night to a single main entrance that could be monitored.
The Clerys also launched a national campaign to increase awareness about crime on college campuses, which inspired the PA Legislature to require that all campuses in that state, public or private, publish crime statistics in their admissions literature. Eventually, the Clery Act became a landmark federal law, tying participation to federal financial aid. Any school that failed to comply could receive a fine from the U. S. Department of Education. In 1992, victims' rights measures were added, and in the 1998 Clery Act, reporting requirements were expanded. In 2008 (after the Virginia Tech shooting that resulted in 33 deaths), schools were required to issue immediate notifications to students, faculty, and employees of any known danger or campus emergency.
Flowers, a crime writer and mystery novelist, makes a point to say that, for the most part, college and universities across the country are safe, but criminality and victimization are certainly not absent. He documents substance abuse, date rape, sexual assault, murder, hate crimes, and stalkers, showing the trends from an array of sources. Of the 7.9 million students enrolled in an American college or university, he says that more than half a million are victims of violent crime (although 85% of these incidents are off campus). In nearly one out of four incidents, a weapon is used, and six out of ten offenders are strangers to the victims, as Henry was to Clery.
Author R. Barri Flowers
These days, schools take more precautions. Campus-wide security alerts, instant lockdown, class cancellations, victim counseling, and education about self-protection have become part of the program. Students are drilled on how to respond to unexpected incidents. Research has also turned up more information about why campus crimes are often under-reported, which helps to focus educational efforts. While putting campus crime in perspective with trends across the decades, Flowers also offers victim resources and a guide to the prevention of on-campus crime. (College Crime can be found on www.mcfarland.com.)
https://leelofland.com/wp-content/uploads/2010/02/kramsland.jpg
313
448
Lee Lofland
https://leelofland.com/wp-content/uploads/2017/04/the-graveyard-shift-1.png
Lee Lofland
2010-02-15 06:30:31
2017-05-30 12:48:13
Dr. Katherine Ramsland: Risk Assessment For College