Cyanocrylate Fuming – Fingerprinting with Superglue
The process of fingerprint fuming is relatively easy. All that's needed to perform the technique is a fairly airtight tank, some heat, and a few drops of Superglue.
Fingerprints leave behind traces of amino acids, fatty acids, and proteins. Those ingredients, combined with the moisture that's found naturally in the air, react to the fumes produced when Superglue is heated. That reaction forms a sticky, white material that clings to the ridges of fingerprints, making them visible.
Detectives take photographs of the chemically developed prints for entry into AFIS and for use as evidence in court.
Detectives use the same glues found in retail stores for use in fuming chambers.
CynoSafe Fuming Chamber
Items to be printed are placed inside an air tight fuming chamber, such as Sirchie Fingerprint Laboratory's CyanoSafe. A few drops of Superglue are placed into a heating tray inside the chamber. The glue is heated which releases its vapors into the air. The CyanoSafe is designed to provide the ideal humidity level for the development of fingerprints.
The machine automatically purges the fume-laden air from inside the chamber after the process is complete. Tabletop models, like the one pictured above can cost anywhere from five-thousand to ten-thousand dollars. There are portable units available that're made from heavy plastic. These units are collapsable for transporting to a crime scene. The costs for the portable units start at around one-hundred-fifty dollars.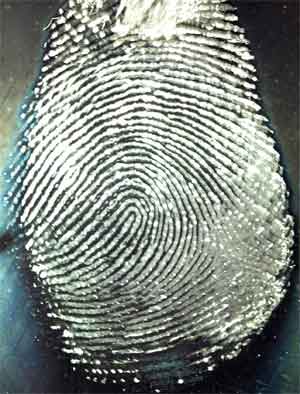 Fingerprint developed using Superglue
In many cases, officers don't have the necessary resources available to conduct their own print development; therefore, they must send the items they'd like printed to an outside laboratory. As a result, prints are often destroyed or wiped away during the trip to the lab. To reduce the risk of destroying a print, it should be fumed – preserving the print – prior to placing the item in a package for the trip. Without the proper equipment, this is impossible.
* Many police departments do not have the funds to buy expensive fuming equipment; therefore, detectives are sometimes forced to become a bit innovative by making their own crude fuming chambers out of glass aquariums, Rubbermaid bins, and even cardboard boxes lined with aluminum foil. Costs – a few dollars. Results – same. Danger to detectives from toxic fumes and burns – high.
Maybe writers should adopt a needy police department, take up a collection, and purchase them a nice fuming chamber.
FYI – Here's a link to an interesting article on The Boston Channel. It about stupid crooks cutting off their fingerprints to avoid jail time.
https://leelofland.com/wp-content/uploads/2008/02/fingerprint.jpg
393
336
Lee Lofland
https://leelofland.com/wp-content/uploads/2017/04/the-graveyard-shift-1.png
Lee Lofland
2008-03-04 08:05:03
2017-05-29 08:25:08
Cyanocrylate Fuming – Fingerprinting with Superglue