Cop Killers and a MySpace Murder Plot
A few days ago we learned the horrific news that father and son had shot and killed two police officers. The two cop killers, Jerry Kane and son Joseph, were later killed by police in a second shootout where the pair of murders had wounded a local sheriff and his chief deputy.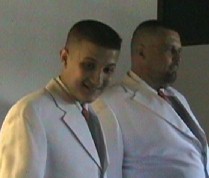 Joseph and Jerry Kane
Sheriff Gene Kelly of Clarke County, Ohio (I spent a few days with Sheriff Kelly and members of his department while researching a book) says he'd warned his deputies to use caution if they ever had to deal with the elder Kane.
Sheriff Kelly also said, "I had my first confrontation with him (Jerry Kane) when he tried to come to a foreclosure sale and write me a check on a piece of paper indicating that he was a free man and he only believed in silver and gold and that he didn't believe in banks,"
Sheriff Kelly continued with, "He (Kane) believed that would enslave him and he was demanding $100,000 in silver and gold," Kelly said. "This man has been having confrontations with authorities for years. And finally, the ultimate result is, law enforcement officers paid the ultimate price for that." (source TV10News)
It's now believed that Kane's son, Joseph, may have fired the first shots.
Sadly, according to one of Jerry Kane's closest friends, William Ligiu Ionescu, this cop-killing incident is only the beginning. Ionescu told reporters from myEyewitnessNews.com that more cop killings are on the way, but not in that department. He went on to say that carrying a gun is a right for Americans, but not for police officers. For them it's a privilege, and they're not properly trained to deal with law-abiding citizens like Jerry Kane. Ionescu also stated that Jerry Kane knew more about being a police officer than police officers do.
Well, if that portion of the story isn't weird enough, there's more.
Jerry Kane's daughter, Heather Michelle Kane, has just been sentenced to 13 years in prison for attempted murder and first degree kidnapping. In 2007, Heather Kane hired someone to kill her former boyfriend's female roommate. As it turns out, the person she hired was an undercover detective. Kane had offered $1,000—$500 up front with the balance to paid after the victim was shot in the head. She'd asked the potential "killer" to bring a photograph of the dead woman as proof of the murder.
Heather Kane learned of her boyfriend's roommate from his MySpace page.
Source – www.springfieldnewssun.com
You know, I've always heard that apples really don't fall far from the tree…
Apples don't fall far from the tree
Hey, honey come sit on my knee
Apples don't fall far from the tree
And I remember Mama's tears
When they said in a few years
I'd be something to see – Cher
Thanks to Lt. Dave Swords for today's topic idea and information. Remember, he'd once arrested Jerry Kane.
* Don't forget to check out our new Facebook page!
https://leelofland.com/wp-content/uploads/2017/04/the-graveyard-shift-1.png
0
0
Lee Lofland
https://leelofland.com/wp-content/uploads/2017/04/the-graveyard-shift-1.png
Lee Lofland
2010-05-26 07:15:43
2017-05-30 10:40:49
Cop Killers and a MySpace Murder Plot