Castle: Suicide Squeeze – A Review (of the police procedure)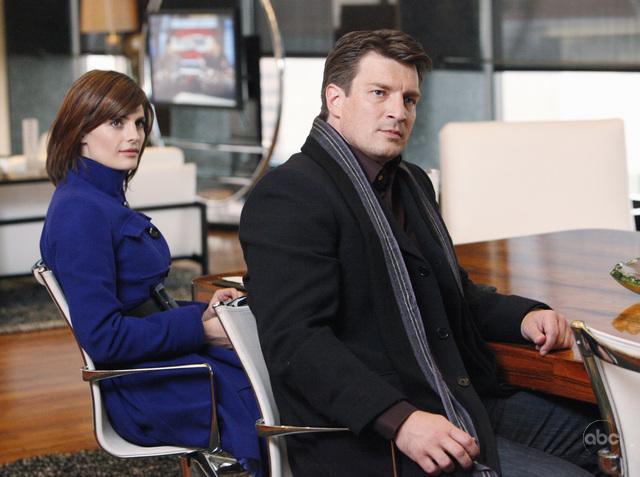 Well, another episode has passed and it was business as usual inside the halls of BCPD (Beckett Castle Police Department), and that business, of course, was murder. As usual, the victim was discovered in some sort of quirky position. This stiff, a professional ball player, was found lying in the dirt on a ball field while being bombarded with baseballs spewing from a pitching machine. Ironic? Not for this show. And that's a good thing.
Before I go any further, I guess I should post the monotonous disclaimer about these Castle "reviews." These blog posts pertain to police procedure, forensics, and other cop stuff only. I am not reviewing the script, the actor's capabilities, the wardrobe, Nathan Fillion's dentist, Stana Katic's mother's gardeners, or Joe Torre's work history with the Dodgers. I don't know what else I can say to help you understand. I've made changes in the blog title. I've added the weekly disclaimers. I've announced it on many of the writer's loops. The dead horse is tired of its weekly beatings, and I know I'm tired of delivering them. I'm just saying…
Whew! Now, with that said, off we go…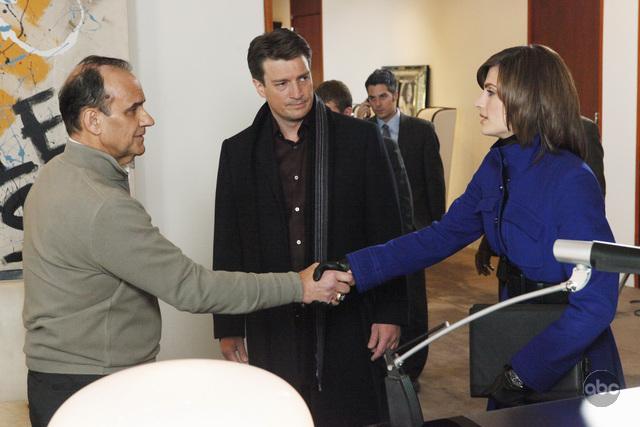 No cutsey, tongue in cheek delivery this week. Just the straight scoop:
– The M.E. (I like this guy, even though Laney Parrish has finally come around) says the victim was hit in the back of the head, because that's what the blood spatter indicated. Okay, that was easy enough. But…
If the dead guy had been hit in the back of the head with enough force to kill him, and that would have to be one heck of a swing (I say that because a bad guy once tried to knock my head into left field with a Louisville Slugger, but all it did was knock me out for a few moments. I still managed to cuff the guy while I was in LaLa Land), then how did he land on his back? The force of the hit should have driven the body a bit forward, not backward.
– The M.E. said the guy's body temp indicated he'd been dead between 2 and 3 hours. We all know that body temp cools at a rate of approximately 1.5 hours in warm weather, a little faster in cooler weather. To know how long this victim had been in baseball heaven, our M.E. of the day would have had to check the core temperature of the body. And how is that done? Yep, either by making an incision just below the rib margin, near the liver, and inserting a thermometer into the liver. Or, he could have inserted a thermometer into the part of the victim's body nearest home plate—the rectum. Either way, the victim's clothing would have to be disturbed, undone, etc. This week's victim was still smartly dressed, with his designer clothing still immaculately intact. Details…
– Beckett said something about blood spatter on the ground along with clear footprints, probably left by the killer. She says, "Get CSU out here." Why? There'd really be nothing for them to see since Beckett and her partners immediately began walking through that very dirt and blood, contaminating and disturbing the area with their own footprints.
– I liked the exchange between the captain and Castle about Castle's family history.
Captain – "Sure there aren't any cops in the Castle family tree?"
Castle – "No, us Castles's are mostly con artists and circus folks…and mind readers."
Well, Castle's description of his family is a perfect description of really good cop. So, good stuff!
– Beckett's little girl-like star-struck behavior was a little out of character for her tough cop persona. Investigators come into contact with celebrities and other hot shots all the time and it doesn't really faze them, especially not during the course of an investigation. I wasn't crazy over this scene. However, I did like the Castle/Torres interaction. That was more like how it would go with a real investigator meeting a celebrity. I remember when I encountered one of the biggest names in TV ever. This was during a major criminal investigation, and when this HUGE name in the business stepped into my office we shook hands and immediately got down to police business. Sure, this person's outfit was worth more than I made in a year (I know the watch alone cost more than my house at the time), but I didn't see things that way, and neither do most other cops, especially seasoned ones like Beckett.
– Okay, here's something that made me sit up and toss my late-night dessert at the TV. One of Beckett's partners announces a major break in the case—tire impressions. Hoo boy, this was a good one. He said they found tire impressions at the scene, and the impressions were unique—they'd been patched twice.
Holes in tires are normally repaired one of two ways. One – a patch is installed over the hole—ON THE INSIDE OF THE TIRE. That wouldn't show up in the impression. Two  – a rubber plug is inserted and glued into the hole. That would probably show up in a really good impression casting. However, and this is a big however, the detective said that the impression matched an impression from an aggravated assault case that occurred over a year ago. Well, he said all this just a few hours after the discovery of the body, right? Well, for starters, it takes quite a while for crime scene techs or detectives to prepare for the collection of impression evidence. First they finish examining the scene, then they decide where and what to collect. Then they have to mix the dental stone, pour it into the impression, and then let it harden. It takes approximately 30 minutes, or so, before you can even touch the stuff to see if it's hardened enough for removal. Once it has become firm enough to lift away from the tire track, the mixture should be left alone for 24-48 hours before brushing away dirt and debris. Then the cast is ready for examination and comparison to another track.
– Hooray! The M.E. said he couldn't tell the height of the killer based on the blow from the baseball bat. Of, course blood spatter would give the approximate position of the head when the trauma was delivered, but who cares. He got it right this time. For months, Laney Parrish has been saying she could tell the killer's height based on fantasy forensics. Read Doug Lyle's Forensic For Dummies, people!
– The day after the murder Beckett tells someone to have "uniforms" canvass the neighborhood, asking if area residents had seen anyone in the area. Normally, patrol officers assist with this immediately after the crime while they're already on the scene. Detectives do the door-knocking in the days afterward. Patrol officers have other things to do, such as patrol.
– Beckett and her fearless crew kick in the apartment door of a murder suspect, sort of. Doors are NOT that easy to kick in. I've seen very large officers kick doors and bounce off like they'd struck a trampoline. I've also seen an officer kick a door and stick his leg all the way through, but the lock and area around it remained intact, and locked.  That's why we use battering rams and other tools. Nothing worse than kicking and kicking and kicking, but can't get in. That's sort of a subtle hint to the folks inside that police officers are in the hallway, and as soon as they figure out how to get inside they're going to arrest them. It's not a very effective tactic.
– Beckett found a footprint on the floor and again ordered someone to get CSU over there. Then she walked directly across the area, contaminating it. THEN, she discovered a large splash of blood in the sink (how she knew it was blood, I don't know). I'm wondering how that much of the victim's blood got in the sink. Did the killer collect a vial of it so he could pour it in and on various places? This was a dumb one.
– Oh, what was the deal with the pitching machine? It was tossing balls at a dead guy on the ground, yet he was supposedly having a little batting practice before he was killed. The machine would have been pitching the balls in the strike zone, not at his feet. Are we supposed to believe that the killer, the dead guy's agent (WE all know that agents can be pretty deadly) took the time to adjust the machine after slugging the star in the head? No way. Another fact gone awry.
All in all, this was just an okay episode for me.
What's up with the sudden interest in Castle's family history? Why are they talking about his unknown father? Could it be? Could it? Could Rick Castle actually be Beckett's brother? How cool would that be!
A photo recap: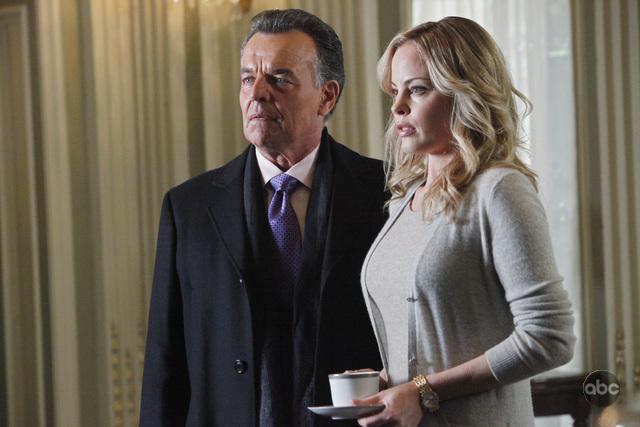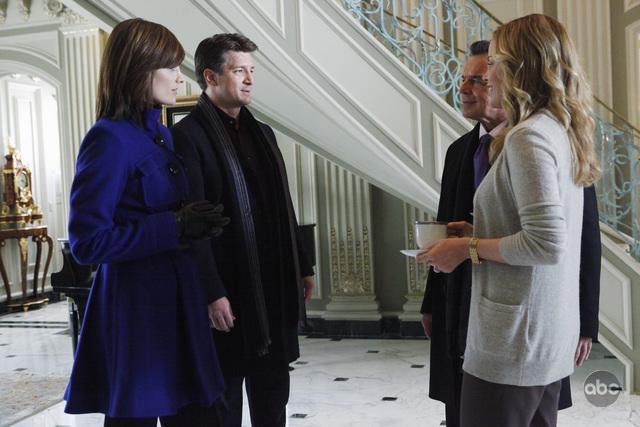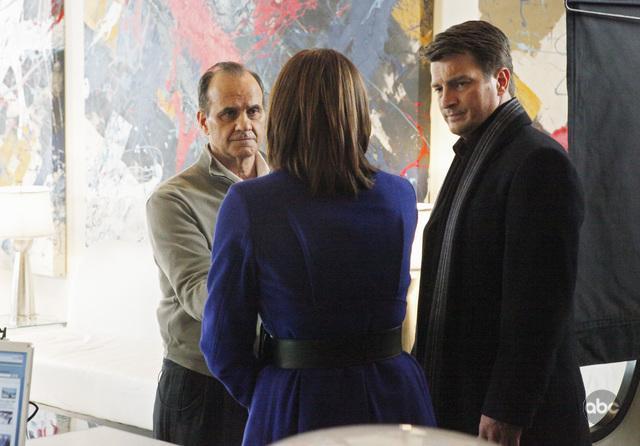 ABC photos.
Save
https://leelofland.com/wp-content/uploads/2017/04/the-graveyard-shift-1.png
0
0
Lee Lofland
https://leelofland.com/wp-content/uploads/2017/04/the-graveyard-shift-1.png
Lee Lofland
2010-02-09 08:51:42
2017-05-26 13:17:48
Castle: Suicide Squeeze – A Review (of the police procedure)