Andrew McAleer: The Professor and the Bank Robber
Photo by Stephen D. Rogers
ANDREW MCALEER is the author of The 101 Habits of Highly Successful Novelists and the co-author of the number 1 best-selling, Mystery Writing in a Nutshell. Mr. McAleer is also the author of three novels including the critically-acclaimed, Double Endorsement and Bait and Switch. A prosecutor with the Massachusetts Department of Correction, Mr. McAleer is an adjunct professor at Boston College and a recipient of the Sherlock Holmes Revere Bowl Award. He serves as a specialist in the Army National Guard. Visit Mr. McAleer at www.Crimestalkers.com
The Professor and the Bank Robber
Working in the prison system has reinforced for me the old adage "Crime doesn't pay."
In 1965 my father, Professor John McAleer entered his office at Boston College and found on his desk a single letter addressed to him in a boyish scrawl. The letter writer, William "Billy" Dickson, was serving time in Cedar Junction "Walpole" State Penitentiary for bank robbery. Billy had seen a copy of a review my father had written for the Boston Globe in connection with Theodore Dreiser and had a few questions. My father thought the questions were worthy of response and thus began a 1,200-letter correspondence between them. My father-a WWII-veteran-encouraged Billy to write about his front-line Korean War experiences, which ultimately developed into the best-selling war novel Unit Pride. The parole board, impressed with Billy's rehabilitation, released him in 1967 just in time to stand in as my godfather.
After he was paroled he worked in the Boston College bookstore and then started a cleaning company. Tragically, in 1974 a disgruntled employee murdered Billy. At the behest of his widow my father heavily revised the manuscript. Unit Pride was published in 1981 and major critics soon praised it as the definitive novel of the Korean War.
Perhaps the most remarkable part of the story concerns my maternal aunt Alice Delaney. As it turned out, she was the bank teller Billy held up. This was a connection my father and Billy didn't make until a year after they met because my father never asked Billy why he was incarcerated. Having seen so many lives torn and shattered from The Big Two, My father saw Billy as a troubled vet, who, like so many others, found it difficult to adjust. In any event, if Billy thought bank robbery was his calling, he couldn't have been more wrong.
Alice, just a few months before her death in 2007 at the age of 91, still recalled the botched hold-up in vivid detail. Events that can't help but bring to mind the bank robbery scene in Woody Allen's Take the Money and Run.
"I remember he slid me a note," Alice told me, "and I slid it back to him because I thought it was a slip to open a new account and I didn't handle that. Then he slid it back to me and I thought he was being fresh, so I slid it back to him. He was a terrible bank robber."
Unit Pride was re-published in 2005 and quickly became the #1 best-selling war book on Amazon. Have we seen any money yet on the book? Just a few bucks, which has me wondering how much dough the publishers have taken in and just haven't coughed up. Maybe crime does pay – for some.
* Fun fact – Unit Pride was one of the first books Robert B. Parker (a Korean War Vet) blurbed. So early in Parker's career in fact that the publisher (Doubleday) credited him as Robert S. Parker.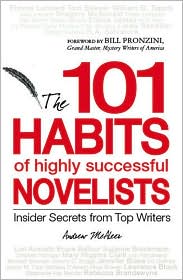 *   *   *
Due to the state of the economy, the early bird registration rate for the Mad Anthony Writers Conference and Writers Police Academy has been extended. Please contact me at lofland32@msn.com for details. You won't want to miss this conference!
https://leelofland.com/wp-content/uploads/2009/02/mcaleer1.jpg
336
448
Lee Lofland
https://leelofland.com/wp-content/uploads/2017/04/the-graveyard-shift-1.png
Lee Lofland
2009-03-09 07:05:41
2017-05-29 08:52:29
Andrew McAleer: The Professor and the Bank Robber