Friday's Heroes: Remembering the Fallen
Today is Peace Officers Memorial Day. In honor of the 18,661 police officers who have been killed in the line of duty, our nation's flags will be flown at half-staff.
In 2008, 133 officers lost their lives while protecting the citizens of their communities.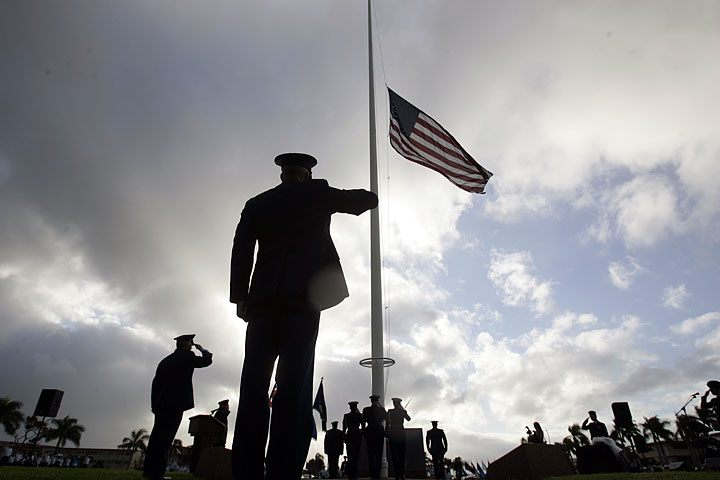 Detective Justin Mullis, 48
French Lick Police Department
French Lick, Indiana
On April 29, 2009, Detective Justin Mullis was killed in an accident when he lost control of motorcycle.
Juvenile Corrections Officer William Hesson, 39
Ohio Department of Youth Services
Officer Willam Hesson died on April 29, 2009 from injuries he'd sustained during an altercation with a juvenile inmate. Officer Hesson is survived by his expectant wife, two daughters, an son.
Detective Robert Eugene Beane, 34

Beauregard Parrish Louisiana Sheriff's Office
Detective Robert Parrish was killed in an automobile accident on May 5, 2009. The detective was on his way to a training exercise when a tractor trailer pulled out in front of his car causing the fatal collision. He leaves behind his wife and daughter.
Border Patrol Agent Intern Nathaniel A. Afolayan, 29
U.S. Department of Homeland Security – Customs and Border Protection – Border Patrol
Agent Nathaniel Afolayan passed away on May 1, 2009. He had collapsed the day before after completing the running portion of the physical techniques portion of the training academy exam. He had only been with the agency for 10 weeks. Agent Afolayan is survived by his wife, two daughters, his parents, and three siblings.
Officer James Manor, 28
Las Vegas Nevada Metropolitan Police Department
Officer James Manor was killed on May 7, 2009, when a drunk driver turned in front of his patrol car causing a head-on collision. Officer Manor had been enroute to a domestic violence call. He is survived by his wife and daughter.
*     *     *
The 28th Annual National Peace Officers' Memorial Service begins at 12:00 noon today on the West Front of the United States Capitol in Washington, D.C. The service is expected to run approximately 2 hours
Sponsored by the Grand Lodge Fraternal Order of Police and the Grand Lodge Fraternal Order of Police Auxiliary.
The Wreath Laying Ceremony will be held immediately following the Memorial Service at the National Law Enforcement Officers Memorial, located in the 400 block of E Street, NW.
*Thanks to ODMP.
https://leelofland.com/wp-content/uploads/2017/03/fridays-heros.jpg
300
900
Lee Lofland
https://leelofland.com/wp-content/uploads/2017/04/the-graveyard-shift-1.png
Lee Lofland
2009-05-15 08:03:18
2017-05-30 14:14:11
Friday's Heroes: Remembering the Fallen