The 20 Most Infamous Celebrity Mug Shots of All Time
Celebrities are often idolized, seen as perfect beings and role models. However, celebrities are far from perfect and the fall from grace can be a hard one. Below are 20 of the most infamous celebrity mugshots of all time.
1. Tim Allen
After rising to fame as the goofy yet beloved father of Home Improvement, Tim Allen was arrested in 1997 in Michigan for drunk driving. He pled guilty to DUI and was sentenced to a years probation and ordered to attend an alcohol and drug rehabilitation program.
2. Charlie Sheen
Sheen is a troubled actor who has been arrested more than once, this mugshot was taken on Christmas Day 2009 after a domestic incident with his then wife Brooke Mueller. Sheen was arrested and plead guilty to misdemeanor assault. He was sentenced to 30 days in a rehabilitation center, 30 days of probation and 36 hours of anger management counseling
3. Lindsay Lohan
Former child star Lindsay Lohan has far too many mugshots for a woman her age. This one was taken after being charged with felony theft of a $2500 necklace. Lohan plead not guilty and claimed she was borrowing the piece. She was on probation at the time and as a last minute plea deal for this case and others, she received 90 days treatment at a rehabilitation facility.
4. Paris Hilton
The socialite and former reality star was arrested in 2010 in Las Vegas for possession of cocaine. Hilton pled guilty to two misdemeanors and received a years probation, 200 hours of community service and was ordered to attend a drug abuse treatment program. She also paid a $2,000 fine.
5. Justin Bieber
The Pop star  was seemingly happy when arrested in Miami in 2014 for DUI and drag racing. Police allege Bieber admitted to smoking marijuana, drinking alcohol and taking prescription medication. Although the case is yet to be finalized, recent reports suggest he may take a plea deal due to the overwhelming evidence.
6. Jason London
The actor took this bloody and bruised mugshot in 2013 after being arrested for assault with intent to injure and disorderly conduct after a bar fight in Arizona. After initially claiming to be the victim, London pled guilty to disorderly conduct and was ordered to complete an alcohol education course. The judge agreed to erase the conviction at the completion of the course.
7. Yasmine Bleeth
The Former Baywatch star was arrested in 2001 in Michigan for possession of cocaine. She pled guilty and was sentenced to two years probation as well as 100 hours of community service.
8. Daniel Baldwin
Arrested in 2006 for stealing a friend's SUV. When police searched his hotel room they discovered illegal drugs and drug paraphernalia. The charges were eventually dropped.
9. Robert Downey, Jr
Downey Jr was arrested in 2000 at the Merv Griffin Resort, Palm Springs for drug possession only months after being released from prison. He pled no contest and received drug rehabilitation and a 3 year probation. He also was dismissed from the hit TV show Ally McBeal and missed out on a role in the hit movie America's Sweethearts.
10. Nick Nolte
At the age of 61, was arrested in 2012 on charges of being under the influence of alcohol or drugs while driving near his Malibu home. He was found to be under the influence of GHB, commonly known as a "date rape drug". He received three years probation and counseling. He voluntarily entered a rehabilitation center after the incident.
11. Mickey Rourke
In November 1997, actor Mickey Rourke was pulled over by police while riding a Vespa in Miami and arrested for driving under the influence. He was eventually sentenced to six months probation.
12. Phil Spector
Record producer and Phil Spector was found guilty of second-degree murder in the death of Lana Clarkson, whose body was found in Spector's mansion. After two trials Spector was sentenced to 19 years to life imprisonment.
13. Vince Vaughn
Vaughn was arrested back in 2001 on charges of fighting in public. He was in North Carolina filming
"Domestic Disturbance" with fellow actor Steve Buscemi at the time. Buscemi was also involved and received
stab wounds. The charge was dropped after Vaughn pleaded no contest.
14. Lisa Robin Kelly
Kelly, famous for playing Eric's sister Laurie on That 70?s Show, was arrested in March 2012 on felony charges of corporal injury on a spouse. She was released after posting $50,000 bail. The LA County DA later announced they did not plan to file charges. Lisa passed away in August 2013 after a long battle with addiction.
15. Kiefer Sutherland
Kiefer was arrested for DUI in 2007. He pled no contest and received a 48 day jail sentence.
16. Hugh Grant
Grant was arrested in 1995 for soliciting prostitution. After pleading no contest Grant received two years
probation, a fine of $1,180 and was ordered to complete an AIDS education program.
17. Mischa Barton

Barton was charged with DUI and possession of marijuana in 2007. She eventually took a plea deal to
avoid jail time and received three years probation, a fine and attended a three month alcohol education class.
18. Andy Dick
Andy was arrested in 2008 for drug possession and sexual battery after exposing the breasts of a 17 year
old female. Dick plead guilty to misdemeanor battery and marijuana possession and was sentenced to three years probation, received a small fine and was ordered to wear an alcohol monitoring bracelet for the period of one year.
19. Michael Jackson
MJ was famously charged with conspiracy to commit child abduction, false imprisonment, extortion,
committing lewd acts upon a child and other charges. In 2005 Jackson was found not guilty of all charges after a lengthy trial. Jackson passed away in 2011.
20. Robert Ritchie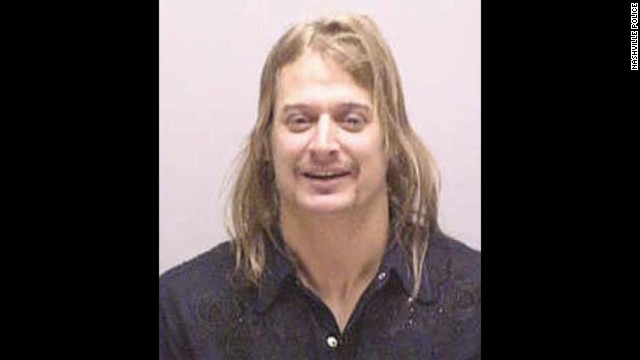 Better known as Kid Rock, Ritchie was arrested for misdemeanor assault in 2005 after getting into a fight with a strip club DJ. He pled no contest and received an 11 month suspended sentence.
* Today's blog post and images courtesy of ARRESTRECORDS.com
https://leelofland.com/wp-content/uploads/2014/02/DSC00947.jpg
336
352
Lee Lofland
https://leelofland.com/wp-content/uploads/2017/04/the-graveyard-shift-1.png
Lee Lofland
2014-02-20 08:38:53
2017-05-30 08:19:01
The 20 Most Infamous Celebrity Mug Shots of All Time