The Exclusionary Rule keeps police officers in check while conducting searches. It prevents prosecutors from presenting illegally obtained evidence.
The rule states that any evidence siezed during an improper search cannot be used, no matter how incriminating it may be (see Fruit of the Poisonous Tree below).
And, if this improper evidence the key piece to the entire case—the smoking gun—the prosecution may be forced to drop the case, sending a very guilty crook back on the street. The defendant may also have grounds for a civil suit against the officers involved, as well as the police department and the city.
The Exclusionary Rule is basically the Supreme Court keeping watch over search-warrant-serving cops.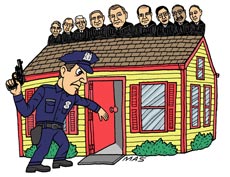 There are exceptions to the exclusionary rule, such as:
When officers rely on a warrant that later turns out to be invalid. For example, officers search a house and find a large cache of illegal weapons along with a guy who's in the process of grinding off serial numbers from an AK-47. Later, the court learns that the address on the warrant was incorrect because the detective accidentally typed River Avenue instead of River Road. Or, the landmarks used to identify the property to be searched were improperly recorded.
"I meant the blue house on River Road, the first one on the right past the old oak tree, not the first one on the left. It was an honest mistake. Oops!"
The warrant may still be ruled valid and the seizure of the guns may still be legal. Or, the warrant may be ruled invalid but the seizure of the weapons could possibly stand. This is so because the officers were acting in good faith, believing they were on the property based on a constitutionally sound warrant (This is a weak example, but you get the idea).
However, if a police officer lies to the judge or magistrate, or if the judge or magistrate showed bias toward the officers when issuing the search warrant, the warrant is invalid and the exclusionary rule is in effect. The evidence recovered by the police may not be used. In fact, it will be tossed out of court, and possibly the officer too …
---
Did you know??
Fruit of the Poisonous Tree – Illegally obtained evidence cannot be used against a defendant. Evidence illegally obtained is "Fruit of the Poisonous Tree."
https://leelofland.com/wp-content/uploads/2018/02/Embarrassed-cop-copy-45.jpg
592
900
Lee Lofland
https://leelofland.com/wp-content/uploads/2017/04/the-graveyard-shift-1.png
Lee Lofland
2019-04-03 07:00:23
2019-04-02 23:03:35
The Exclusionary Rule and Fruit of the Poisonous Tree